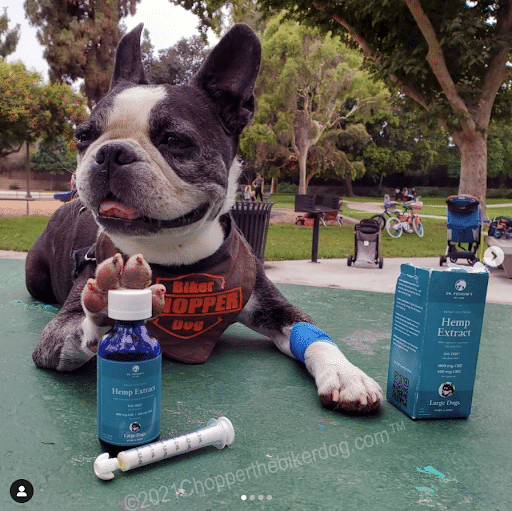 We had the sincere pleasure of speaking with Mark, and his amazing biker dog, Chopper! These two are a match made in heaven. Mark discussed with us why he started using hemp extract and the benefits that came with it! 
Chopper's Newfound Burst of Energy!
Mark began purchasing our products due to Chopper's two-and-a-half-year battle with health issues. Mark has friends with experience in using hemp extract for their pets.
Taking his friend's advice, he sought out hemp extract products. The product did not perform the way he envisioned, choosing to discard the product.
12-year-old Chopper has been under the care of four veterinarians. Two out of the four are holistic vets. One of the holistic vets suggested Mark take a look at Dr. Fossum's Pet Care website. Mark took the advice and was instantly drawn to our website.
"I went to the website, and everything I read on there and saw, sounded very appealing, something that I wanted to try. So, I did."
Mark ordered a bottle that Chopper has been using for 4-5 months. Within that time Chopper displayed positive results! His newfound burst of lively energy signaled Mark's wave of approval.
"He was getting more pep to his step, he was pulling me on the leash. So he did seem like he was waking up a little bit more. When we go on our walks at the park, he's sniffing every tree. The very last little leg of our walk, I take the leash off and he just runs. This is behavior that I hadn't seen before."
Chopper The Friendly Biker Dog
Chopper enjoys being there for his community! (Who can resist that sweet face). The furry motorcycle enthusiast had been riding his personal Harley Davidson since he was a young pup.
Although he cannot ride the way he used to, once in a while he'll make an appearance in exchange for a loving smile!
"We saw this little girl and her father driving around in a little car, I'm thinking she might enjoy a little passenger. Her father was all excited, he was so happy. It gave them this great memory, just Chopper riding in this little car with this little girl. It's all about trying to do positive things for people and creating good memories sharing Chopper's love."
Mark is an incredibly generous person with his amazing dog, Chopper. It's wonderful that we've been able to help Chopper, allowing him to feel better for whatever time!
People follow Chopper because he's been around two and a half years longer than anticipated.
"We just want to say thank you, if people are looking into getting the hemp extract for their dogs, this is something I would say, yeah, definitely look into it! It's definitely worth it."
Become a Dr. Fossum's Dog!
For veterinarians, it's all about the quality of life. So if they're happy and doing well, that's all we can ask as they get older! We could not be happier to hear Chopper's story. We want to thank Mark from the bottom of our hearts for allowing us to help Chopper and other pets out there! We hope that they have another 10 years together.
"I'm definitely very thankful to Dr. Fossum and her team for being there to support Chopper and making sure that he gets his hemp extract on time so we don't lose any time in between. They're really great about shipping it out."
Curious what Dr. Fossum's product will best serve your pet? Check out our dosage calculator.
Want to share your Dr. Fossum's story? Leave us your review and send us a video on Facebook!