Veterinary Examination- Before Dr. Fossum's Tincture
Condition of Jaden prior to Dr. Fossum's Pet Care
Jaden is a 12-year-old neutered male Shih Tzu diagnosed with a large leak in one of his cardiac valves clinically complicated concurrently by chronic bronchitis. Standard cardiac medications for his valvular heart disease have been successful in slowing the clinical progression. During the last examination, however, there was concern due to Jaden developing increased frequency of episodes that seemed to be anxiety related. These episodes involved him panting, being generally agitated, restless and digging at doors and at the floor. During one of the more severe episodes he was given a sedative/antidepressant (trazodone) which resulted in some abatement of clinical signs but did not calm him completely.
Due to the severity of his underlying heart and lung disease and potential for adverse drug interactions we discussed alternative approaches to management of his clinical symptoms. We discussed the possibility that cognitive decline/dementia was a cause for his described behavior. We discussed having Jaden evaluated by both an internist and a neurologist.
Adjunctive Therapy
We also discussed empiric measures in an attempt to address his clinical complaint including a rigid inherence adherence to a daily schedule and CBD supplementation.
Outcome After Administering Dr. Fossum's Tincture
Results reported from Jaden's Parents
"We would love for you to share his great results from such a fabulous product. Based on his weight of 12pounds we started him on 8 ml's the first week but rather than drop to ½ 4 mls, we now give him 5 ml's 2x/day and that seems to be a good amount for him. Here's a little more detail about his actual results that we're finding almost miraculous considering all that he was going through before: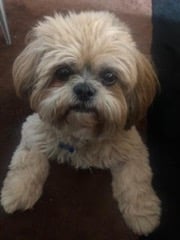 Behavior Changes:
No longer runs or darts from room to room for no reason all day.
No more heavy panting during the day, night or through the night.
No more anxiety or panic attacks, pawing at the bed at night trying to wake us.
No more anxiety episodes while walking.
He is not anxious at all on car rides anymore.
Jaden seems generally more interested.
Sleep changes:
Jaden is calm and normal all day and sleeps calmly all night in his own bed again (hadn't done that for the past year).
Physical Changes:
Jaden is eating all his meals and snacks normally again and finally not so skeletal issues. He continues to walk 2x daily @ 1 mile each calmly
A large cyst on his tail @1" has shrunk to @1/2"
Palatability:
Jaden seems to enjoy the flavor (tries to eat the syringe each time).
"Dr. Fossum's CBD oil seems to have leveled out his anxiety, mood and eating issues. So thank you for recommending"