As a pet owner, it is beneficial to know what is safe for your pet.
Thus, it's our goal to always be transparent with pet owners and animal health workers about our products.
Ultimately, we're here to keep you informed about your pet's well-being, which is why we want to answer some of the most frequently asked questions.
How Important is the Potency of the product?
The potency of your pet's CBD product is extremely important because CBD is poorly absorbed from the gut (absorption is ~5%-14%). Therefore, it is important to give a high amount of CBD to ensure your pet is absorbing adequate amounts.
Additionally, the half life of CBD is ~ 4.5 hours. We recommend giving the product in the morning and in the evening to ensure consistent blood levels. Stay away from products that recommend that it be given once a day, as well as products that have a low concentration of CBD. For dogs, we recommend approximately 1 mg per pound, twice a day. So, if you have a 20 pound dog, we recommend approximately 20 mg of hemp extract twice a day!
Be aware that products with lower concentrations of CBD/CBG require you to give larger volumes and thus while these lower concentration products may initially be less expensive, you will end up spending more in the long run because you will have to give more product.

How do I know how much CBD to give my dog?
You have purchased CBD for your dog, now what?!? When you look at the usage guide, there should be clear instructions on how much and how often you should give the product. We recommend products that use an oral syringe. Droppers can lead to you giving inadequate amounts because bubbles can form in the dropper and make it difficult to know how much you are giving. Be wary of companies that tell you to give a certain number of drops over a wide range of pet weights (e.g., 3 drops for dogs under 30 pounds). This means that they are not being specific regarding how much to give your pet and could well mean that you will see less benefit than if you were giving the correct amount. We recommend specific amounts as noted in this graphic – for additional information please see our Usage Guide at drfossums.com/usage-guide/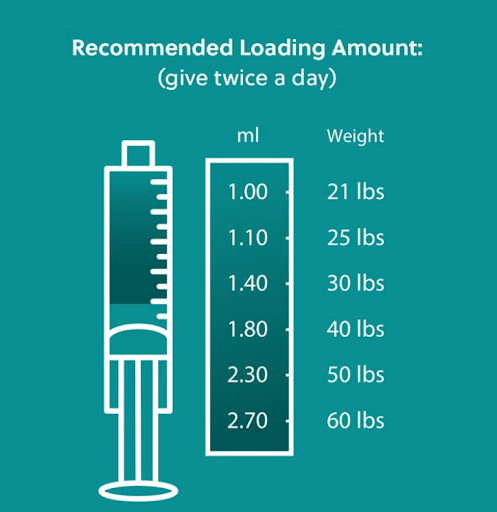 Can You Give a Pet Too Much Hemp Extract? Should you avoid THC?
Our tincture does not have detectable amounts of THC. It is important to note that hemp products containing THC can have adverse side effects if they ingest too much.
THC can be toxic to dogs. A small amount of THC may be helpful, but it can pose a risk depending on the amount given. We recommend products that have non-detectable amounts of THC in them. THC should be given under a veterinarian's guidance to prevent toxicity. Reported side effects for THC are: lethargy, ataxia, urinary incontinence, vomiting, and hyperesthesia (increased sensitivity to touch).
Are There any Precautions Using Dr. Fossum's Pet Care Products?
Drugs metabolized in the liver may alter if taken in conjunction with CBD. Check out our FAQ page for a full list of drugs whose metabolism could be affected by the simultaneous administration of that compound and CBD.
As a pet owner or animal health care worker, it is always important to be aware of any side effects when giving anything to your pet, including supplements and prescription medications.
The most common side effect associated with CBD is sedation or drowsiness. Other possible side effects are dry mouth, temporary decreases in blood pressure and ataxia (or wobbliness). However, it is important to note that per the NASC, out of the millions of servings of hemp extract given to dogs, there have only been a few minor adverse events reported.
Why Won't my Veterinarian Discuss or Recommend Hemp Extract/CBD?
Currently, there are no FDA approved Hemp and CBD products for pets. Regulations determining if veterinarians can discuss or recommend CBD vary state by state.
Nonetheless, you should feel comfortable letting your veterinarian know that your pet is taking CBD because your pet's health and wellness is your veterinarian's primary concern!
More Questions? We're All Ears!
We always want you to feel comfortable and confident using Dr. Fossum's for your furry friends.
If you have more questions, please feel free to dive into our in-depth FAQ page.
Don't see your question there?
Reach out to us! We're happy to help you answer any questions you may have!